Spain midfielder Thiago Alcantara claims that the focus of the national team is only on the upcoming World Cup 2018 qualifying match against Albania and not on the Catalan issue.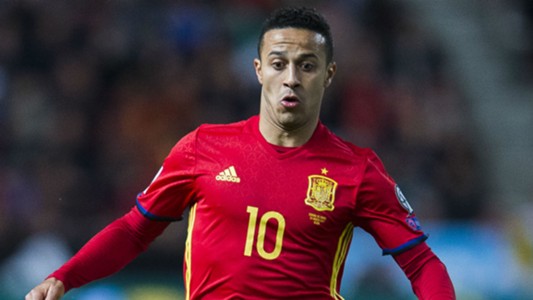 Catalonia have been coming up with various protests regarding the independence and there have been violent clashes back at Barcelona. As a result, the recent match between Barcelona and Las Palmas had to be played behind closed doors at the Camp Nou. A number of Spain players who are based in Catalonia – like Gerard Pique – have come in support of the independence issue, but Thiago Alcantara refused to get politics into football.
The Barcelona defender has even threatened with the possibility of retiring from Spanish football if the demands of the Catalonia people are not met. Thiago Alcantara says that Spain are only focused on finishing top of the group and reaching the World Cup 2018 in style.
The team only has two matches left in the campaign with the first of the being against Albania. This will be followed by a match against Israel. If Spain manage to win both these matches, they will stand to finish top of the group ahead of Italy, who are three points behind coming into the last two matches.
Finishing top is a key factor for both giants as it would then give direct access to the finals rather than having to go through a potential play-offs."We're sorry because we came here to play football, I didn't come here to talk about anybody's life, Koke's or mine,we came here to play football. It's a pleasure to be in the squad, everyone is there on their sporting merits. We're sorry to not be able to speak, to not be comfortable to speak about Albania or Israel which is the fundamental thing for us now," said the Bayern Munich midfielder.