Neymar has moved ahead of Paris Saint Germain (PSG) teammate Lionel Messi at the top of the scoring chart in the South American section of the World Cup 2022 qualifiers after he scored the first goal of the matchday twelve (12) matchup with Uruguay.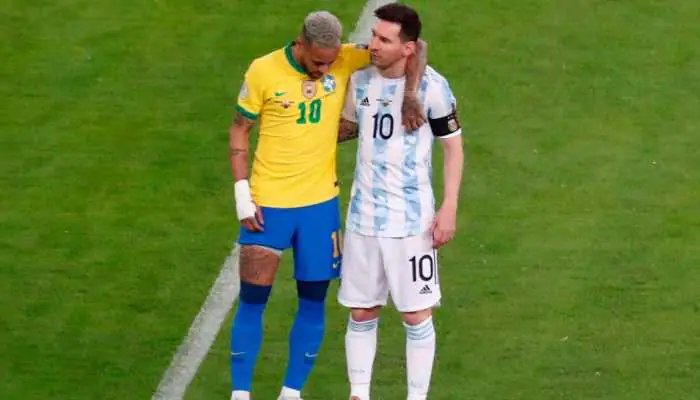 PSG attacker Neymar scored the opener for Brazil on the way to a 4-1 home win over the Urugayans at the Arena de Amazonia in Manaus on Thursday night. Neymar and Messi were both on six goals at the start of matchday 12.
Messi was not able to find the back of the net during the matchday 12 matchup between Argentina and Peru. The new PSG player didn't find the back of the net as Argentina beat Peru 1-0 at home thanks to the goal from Inter Milan striker Lautaro Martinez two minutes before the half-time interval.
Neymar moved ahead of Messi on the scoring chart as far as the World Cup 2022 qualifying campaign is concerned after he scored his seventh goal. Leeds United player Raphinhamade a big impact on the occasion of his first start for the Selecao of Brazil. The attacker scored two goals to propel the Brazilian team to a 4-1 home win at the expense of the Uruguayans.
Raphinha hit the back of the net twice as Brazil returned to winning ways after their nine-game victory run at the start of the World Cup 2022 qualifiers was stopped by the goalless draw at the home of Colombia.Raphinhaadded a second Brazil goal eight minutes after the opening goal from Neymar. He then completed his brace with the third Brazil goal on 58 minutes.
Atletico Madrid star Luis Suarez briefly pulled one back for Uruguay with 77 minutes on the clock before Brazil wrapped up the big win with seven minutes left to go thanks to Gabriel Barbosa. The Flamengo striker was the recipient of the fourth Brazil goal and the final goal of the game.